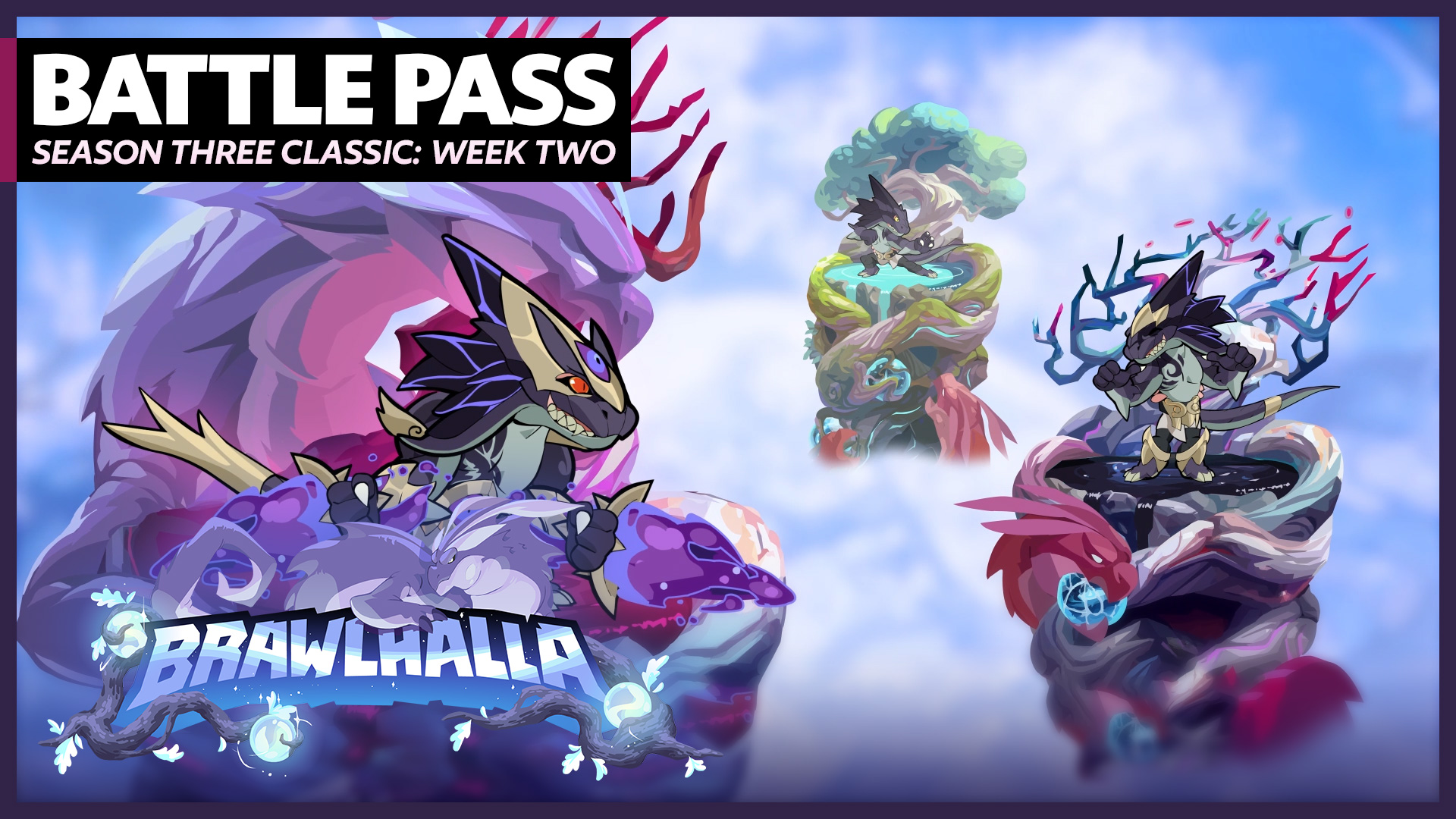 Roblox x Brawlhalla: Weapon Fighting Simulator & Jötunn Winter Brawlball
Brawlhalla x SpongeBob SquarePants reveals continue. On the Tuesday Dev Stream, we revealed the Bikini Bottom Map, the Flying Dutchman Sidekick, and that SpongeBob SquarePants is a new tier of Crossover, Mythic! Tune into our Friday Dev Stream to see even more Sponge-tastic reveals!
Mythic Crossovers are a new tier of Crossovers. Mythic Crossovers have everything an Epic Crossover has plus extra features to feel even more like the original IP. These additional features could be anything from special custom animations, Light Attack changes, extra costumes, and more.
Battle Pass Classic 3: Jötunn Winter's Return is in full frosty action. Week Two Missions are now available to complete. What are you waiting for?! Get out there and complete those Missions!
The Roblox x Brawlhalla Event in Weapon Fighting Simulator begins today. Hattori, Mordex, and Loki are waiting for you on Demon Island. Don't dally, this event ends November 29th.
To catch the latest Brawlhalla news and content, be sure to follow us on Twitter, Twitch, Facebook, YouTube, Instagram, Discord, and TikTok!

A Jötunn winter sweeps through Brawlhalla once again! This return to Brawlhalla's third Battle Pass season features an up-to-date Battle Pass track with 85 tiers that lasts for 12 weeks! 

Discover new rewards unlockable by playing Brawlhalla and completing updated missions. Plus, enjoy some exclusive rewards for those who braved the last Jötunn cold front. 

This Battle Pass season features new rewards like a new Battle Boots Weapon Skin and Emojis while also starring classics like the Aurora Brynn Epic Skin, Jormungandr Mako Progression Skin, and many other frozen finds.

Get the team together for this 3v3 game! Don't have a team? Fear not, we'll find one for you! Hit World's End Arena at full speed, snag the ball, juke or pass past your opponents, and hold it in their goal to score! No team damage, and you can go through walls the same color as you. First team of jötunns to 3 scores wins!
3v3 Brawlball on World's End Arena

5 minutes

Queue up solo or with a team!


The free-to-play Legend rotation for this week features: Asuri, Jhala, Onyx, Yumiko, Thor, Arcadia, Reno, Mordex, and Lord Vraxx!
Asuri – This Night Stalker has claimed the Tournament as her territory and sets upon challengers to her domain using Katars and Sword!

Jhala – Given the title "Exalted Lion" by Apollo himself, Jhala "The Unbroken" takes the glamor of Valhalla in stride while having fun slaying her foes with Axe and Sword.

Onyx – The powerful Guardian and Protector of Castle Batavia, Onyx has been offered a place in Valhalla and now defends it ruthlessly with her Cannon and Gauntlets.

Yumiko – Holding the appearance of a blind seamstress, this centuries old fox spirit has been brought into battle wielding her Magical Hammer and Bow!

Thor – Finally entering the ring, Thor, God of Thunder, makes his appearance in the Grand Tournament with his trusty Hammer, Mjölnir, and his powerful Orb.

Arcadia – The humble beetle farmer turned Glorious Queen of the Faefolk. Arcadia, the great champion of the Fangwild, fights in the Grand Tournament with Orma – the singing Greatsword, her Eldritch Thorn Spear, and trusty beetle companion Domo. 

Reno – Four arms, compound eyes, fearlessness, and an added dose of genius make this Chitnoid Gunslinger the greatest bounty hunter this side of the Pecosid asteroid belt. He'll take on any job with his trusty Blasters, and loyal Orb companion.

Mordex – Wielding his Gauntlets and Scythe, this lycanthrope steps into battle!

Lord Vraxx – This feared warlord dominates his opponents with Rocket Lance and Blasters!