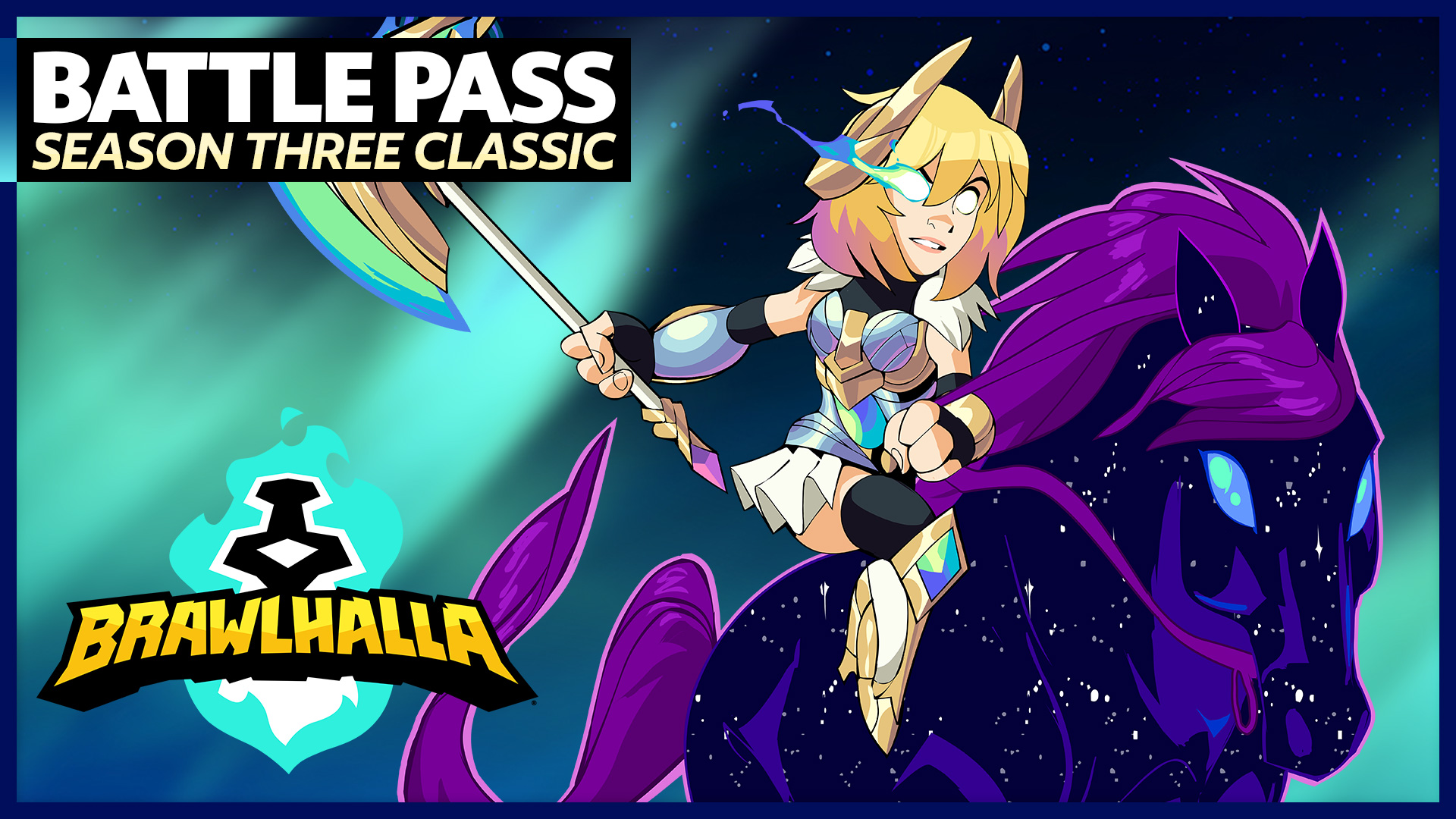 Battle Pass Classic 3, Cassidy Sig Rework, and Dash Updates! – Patch 8.01
A winter storm sweeps through Brawlhalla in Battle Pass Classic 3: Jötunn Winter's Return. Aurora Brynn rises once more in her mightiest Valkyrie form with her cosmic steed, Midnight, to battle at the World's End Arena. Uncover new and classic rewards and missions by playing Brawlhalla.
All players automatically gain access to the Battle Pass free track and all Weekly Missions with an option to purchase the Gold track for even more rewards.To learn more about this Battle Pass Classic season, check out brawlhalla.com/battle-pass-classic-faq.
Put on your fancy clothes and join our eighth anniversary celebration! The seasonal event is almost over, but the party isn't done yet. Check out the new Artemis & Diana Skins, the new exclusive Sidekick, Podium, and more! Just follow the fancy top hats in Mallhalla. 
To catch the latest Brawlhalla news and content, be sure to follow us on Twitter, Twitch, Facebook, YouTube, Instagram, Discord, and TikTok!

A Jötunn winter sweeps through Brawlhalla once again! This return to Brawlhalla's third Battle Pass season features an up-to-date Battle Pass track with 85 tiers that lasts for 12 weeks! 

Discover new rewards unlockable by playing Brawlhalla and completing updated missions. Plus, enjoy some exclusive rewards for those who braved the last Jötunn cold front. 
This Battle Pass season features new rewards like a new Battle Boots Weapon Skin and Emojis while also starring classics like the Aurora Brynn Epic Skin, Jormungandr Mako Progression Skin, and many other frozen finds.

New Map: Small World's End
The icy winds of Jötunn Winter have brought us a new Map 🥶
Small World's End has been added to the normal 1v1 and 2v2 Map pools. Check it out in the BOTW: Jötunheimr's Doom!
Battle Pass Classic 3: Jötunn Winter's Return also features:
A purchasable pass to the Gold Track with exclusive rewards like the Yggdrasil's Fate Progression Podium.

Players that bought the Gold Pass during the original run of Battle Pass Season 3 do not need to purchase it again.

All players are granted access to the Free Track and all the Weekly Missions!

A UI takeover featuring Aurora Brynn and Midnight.

For all completionists, a new Avatar & "Ice Giant Warrior" Title reward awaits you if you make it through all 85 tiers and complete all the missions!

Players who purchased the Gold Pass for the original run of season 3 will also receive the "Ymir's Chosen" Title reward.


Break out the party hat and cake – it's time to celebrate Brawlhalla's Eighth Anniversary! This seasonal event features exclusive items, like the new Artemis & Diana Skins, Sidekick, Podium, and much more. Players can also claim the free "Belle of the Brawl" Title just by logging in to Brawlhalla during the event!
For this 8th anniversary celebration, we're also holding a timed mission to earn Esports V.1 Colors. 
See the list below for all the exclusive party favors:
Skins
Peacock Artemis
"The will of the party!"

Ready to stun in her metallic faux plumage, Artemis makes an entrance with her Pavo Beak Scythe and Cristatus Wingspan Rocket Lance.
Swanky Diana 
"Fashionably late with a bang."

Diana makes a bold statement with her custom Gold-Inlaid Bow and Jubilation Blasters. 
Gothic Chic Nix
"She's dressed to KO!"

Ever the trendsetter, Nix serves a dark, fashion forward look. She styled it with her Last Bite Scythe and Glitz & Glam Blasters.  
The Honorable Sir Roland, Esq.
"Yet another title to add to his incredible list."

Sir Roland is attired with his finest formalwear to attend the party with his Golden Lion Fang Sword and Regal Roar Rocket Lance.
Maître d'Hattori
"She'll serve you a memento mori.

Hattori is ready to deal you a KO with her Celebratory Sabre and Corsage Royale Spear.
Gentleman Kor
"Simultaneously neat and on the rocks."

Kor's been buffed and polished for the celebration! He's accessorized too with Cuffed Regalia Gauntlets and Disco Brawl Hammer.
Ritzy Bödvar
"I can bear-ly contain my excitement."

Adorned with his Hammer Decorum and Gilded Glory, Bödvar is ready to celebrate in his new attire!
Sidekick
MonoKyle – "He's ready to celebrate!"
New seasonal Anniversary Sidekick!

He's escaped Terminus! Time to party!!

Colors
Gala Color Scheme
Dress to impress with these white, black, and gold colors.

Available for every Legend!
Esports v.1 Color Scheme
Win a matchmade game with a Legend to earn this elite Color Scheme for that Legend.

Win matchmade games with all 60 Legends to unlock the Colors for all future Legends! Also unlocks the "Drum Solo" Emote. 

Emojis
New seasonal Anniversary Emojis!
Gentleman WP – "I do say, that was a well played match."

Ritzy GG – "Indeed, a good game was had by all!"

Ray of the Dead Thumbs Up – "Always brush your teeth after eating candy!"
Emote
8th Cake-aversary
"Cassidy's trademark carrot cake recipe! All rights reserved."

Party with your opponents with some cake!
Podium
Gilded Deco 2023
"Celebrate our 8th Anniversary with this newly lacquered Podium!"

Featuring animations and sound effects, dazzle your opponents on this lavish Podium.
The Anniversary event also includes:
A free "Belle of the Brawl" Title by logging on to Brawlhalla during the Anniversary event!

Daily login bonus of 250 Gold to celebrate this event.

Anniversary-themed UI Takeover! Follow the top hats in Mallhalla to find all the goodies.
After tons of feedback and testing in Experimental –  Cassidy gets an entirely new tool while retaining the original.
New Down Hammer changes: Cassidy will now throw her lasso and trap her opponents in it. 
Bonus: Also reworked on Globox!
New Side Hammer: Charge variant will perform the original Down Hammer tornado signature. The uncharged Side Hammer remains unchanged.


Also graduating from Experimental – the startup time for backdash has been decreased both in neutral and during dash dancing to be more symmetrical with forward dash.
Now, just like forward dash, you can attack out of a backdash freely.
Other than the slightly reduced impulse speed compared to forward dash, there is no penalty for performing a backdash anymore.

Introducing a new setting in the "System Settings" menu. Spectators can now control the amount of delay when spectating a match. Select "Quality" for a 3 second delay, or "Speed" for a 1 second delay. Players on Steam can still type the launch option to accurately set their delay.

The competitive Map pool has been unified so that 1v1s and 2v2s are the same, and increased the pool from 7 to 9 Maps. 
The full pool includes:
Small Brawlhaven

Demon Island

Apocalypse

Small Fortress of Lions

Western Air Temple

Miami Dome

Mishima Dojo

Small Terminus

Halo

Stand against the best in this 3 minute 2v2 match! Brave the dangerous, random conditions determined by the Ice Giant's dice roll. Score 2 points for every KO and lose 1 point for being KO'd. The jötunn with the most points wins!
Dice & Destruction Game Mode

2v2

3 Minutes

Most points at the end wins!


Gameplay 
Weapon Spawn placements improved on Plains of Passage, Demon Island, and Small Brawlhaven.

Improved Bot behavior and pathing on Inverted Dracula's Castle.

Gameplay
Fixed a bug where Sticky Bombs could not KO in the Buddy Game Mode taking place on Under the Canopy and Kung Foot Arena Maps.

Fixed a bug where Bots would accidentally self-KO on Inverted Dracula's Castle.
UI
Fixed a bug where favorited Weapons were not saving correctly.

Fixed a bug where controller players could not back out from the "rename local player" menu.

Fixed a bug where the chat box was not functioning when in the Queue (PC & Mac Only). 

To better match the value of various international currencies, we'll be adjusting the prices for Mammoth Coin Packs in various international stores. All prices in US dollars remain the same, and are the standard for their pricing value. 

The free-to-play Legend rotation for this week features Wu Shang, Sentinel, Cassidy, Jaeyun, Ulgrim, Xull, Fait, Val, and Diana.
Wu Shang – Using the way of peace, discipline and martial arts, he takes down his foes with Spear and Gauntlets!

Sentinel – The first and greatest costumed superhero in America has come to Asgard, finding those who need protecting and vanquishing injustice with his Katars and Hammer.

Cassidy – The Marshal of the Old West is ready to instill justice into Valhalla with both Hammer and Blasters!

Jaeyun – The legendary mercenary who has traveled across the Old Kingdom on the back of his dragon turtle companion Imugi, Jaeyun has discovered new riches and sights in Valhalla! He brings the Greatsword and Sword to battle in the Grand Tournament. 

Ulgrim – Equipped with flawless Ivaldi creations, his Axe and Rocket Lance, the legendary blacksmith forges his way into battle!

Xull – With legendary physical strength, this Axe and Cannon wielding Orc Warlord is ready to challenge everyone and everything in Valhalla!

Fait – Speaking to the stars and using glimpses of the future, Fait battles for good with her Scythe and Orb!

Val – An android assassin with terrifying strength and quicker-than-light cognition. With her Sword, Gauntlets, and extreme cunning, Val is a force to be reckoned with.

Diana – Commander of the Order's hunters, she uses her Bow and Blasters to slay countless beasts and monsters.