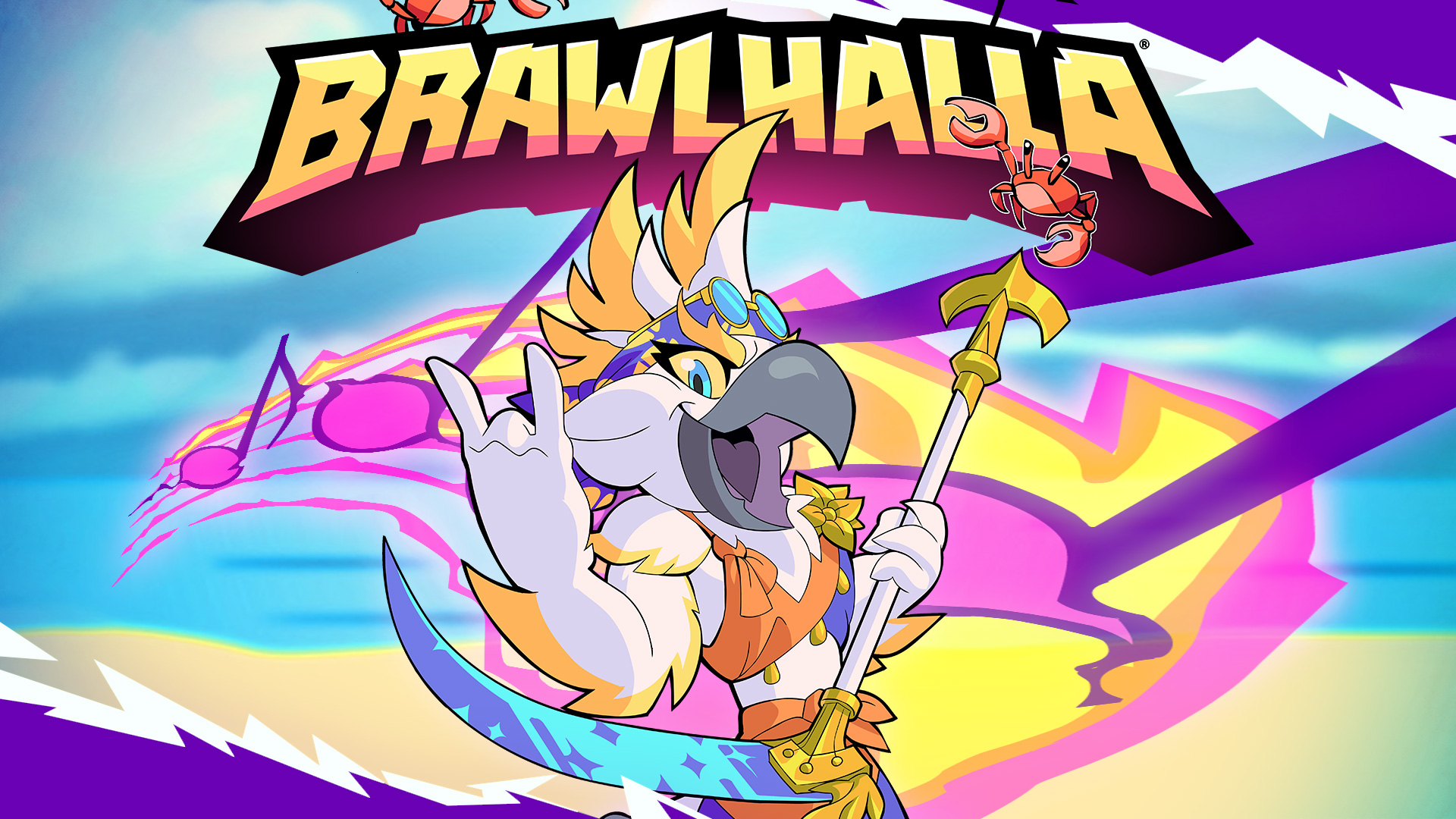 Heatwave 2023 Starts Now!
It's time for the hottest event in Valhalla! We've got a summer cooler full of all new Mallhalla items. Check out new Skins for Munin & Queen Nai, the first ever Heatwave Emote – Beachside Break, a new Podium, Heatwave Summer Colors, thirteen more summer Skins, and much more. Follow the beach balls in Mallhalla to find them all! 
To catch the latest Brawlhalla news and content, be sure to follow us on Twitter, Twitch, Facebook, YouTube, Instagram, Discord, and TikTok!

Grab your sandals, beach chair, Spike Balls, and join the fun! Surf's up as we celebrate the hottest event in Valhalla with new Skins, a new Podium, and many more summertime goodies available in Mallhalla for a limited time.
See the list below for all the Heatwave items:
Exclusive Seasonal Skins
Cockatiel Munin – "Ready for a beachside performance!"

Sea Krait Nai – "I'll never get tired of the snakes on this plane of existence!"

Vraxxy Jones – "He'll stuff your Stocks in his locker."

Deep Sea Lucien – "Bluuublublubb!" Featuring animated FX!

Riptide Petra – "Surf's up, Gauntlets out."

Beachside Zariel – "It was never this hot in Elysium."

Thor by the Shore – "Don't forget the sunscreen!"

Brawl Dad Isaiah – "Grillin' in the name of…"

Wipeout Nix – "Sharks aren't the most dangerous thing in the water anymore."

Pool Party Diana – "Ever seen a vampire at the pool? Didn't think so."

Water Wars Cross – "No lifeguard on duty."

Island Azoth – "This summer is sure to sizzle to your bones."

Hotshot Vector – "The Maverick has arrived."

Dog Days Mordex – "Every dog has its day… at the beach!"

Atlantean Orion – "Fierce protector of deep sea mysteries."
Emote
Beachside Break
"You worked hard for that KO. Time to kick back and relax!"
Podium
Heatwave 2023 Podium 
 "Celebrate the Summer Heatwave in the newest tiki tower style!"

An animated Podium with new colors, sound fx, and tiki design!
KO Effect
"Hot Lava" KO Effect
"Melt your opponents with this hot KO!"

An exclusive KO Effect for this event.
Avatars
Endless Heat Wave
"Catch a wave and cruise through the heat!"

An animated Avatar!
Ice Kor-eam
"You were expecting Rocky Road?"

Purchasable with your hard-earned Gold!

Colors
"Heatwave" Colors
Feel the summer fun with these bright blue, orange, and yellow colors.

Available for every Legend with hard-earned Gold!

Heatwave also features:
New Title Reward: Heatwave Hero

Water balloons that replace snowballs!

+250 bonus Gold per login!

A summer fun UI Takeover with seasonal main menu music.

Water balloons are old news, this 6 person Free-for-all calls for something… Bigger. Break out new giant water bombs in this crazy 200% damage showdown! Score 2 points for getting a KO, lose 1 for getting KO'd. Watch out for those bombs!
6 Player FFA

3 minutes

200% Damage

Score the most points to win!


Cry "havoc" and let slip the ultimate dog of war, Mordex! The Iron Legion bundle has everything you need to fight on the front lines, including:
Iron Legion Mordex

Mordex Legend Unlock

The Flex Emote
This promotion is available for all Amazon Prime members in supported regions to unlock for free. Claim your loot at brawlhalla.com/prime.

The free-to-play Legend rotation for this week features Ember, Barraza, Rayman, Gnash, Diana, Mako, Artemis, Dusk, and Sidra.
Ember – This quick and dexterous elf does battle in Valhalla with Bow, Katars and her two companions: a wolf named Ash and her raven named Yarra.

Barraza – A feared man in the wastelands with his Blasters and Axe, Barraza is the ultimate survivor and will do what it takes to be at the top in Valhalla.

Rayman – The Champion of the Glade of Dreams, wielding his Gauntlets and Axe, has found his way into Valhalla on a mission to save his home.

Gnash – In the darkness, before the dawn of history, this Legend was raised by the harsh jungle itself. This Super Hunter uses his Hammer and Spear in battle.

Diana – Commander of the Order's hunters, she uses her Bow and Blasters to slay countless beasts and monsters.

Mako – The ultimate apex predator from The Sea, Mako, with her Greatsword and Katars, aims to make fish meat out of her opponents in the Grand Tournament.

Artemis – After transversing the universe in search of her rival Orion, Artemis has ripped open a wormhole into Valhalla. She is ready to fight with her Rocket Lance and Scythe!

Dusk – Wielding his Spear and a powerful Orb carved from stone and magic, Dusk seeks to spread chaos throughout Valhalla.

Sidra – Known for her legendary and fearless raids, the Corsair Queen is prepared to fight with her Sword and Cannon!