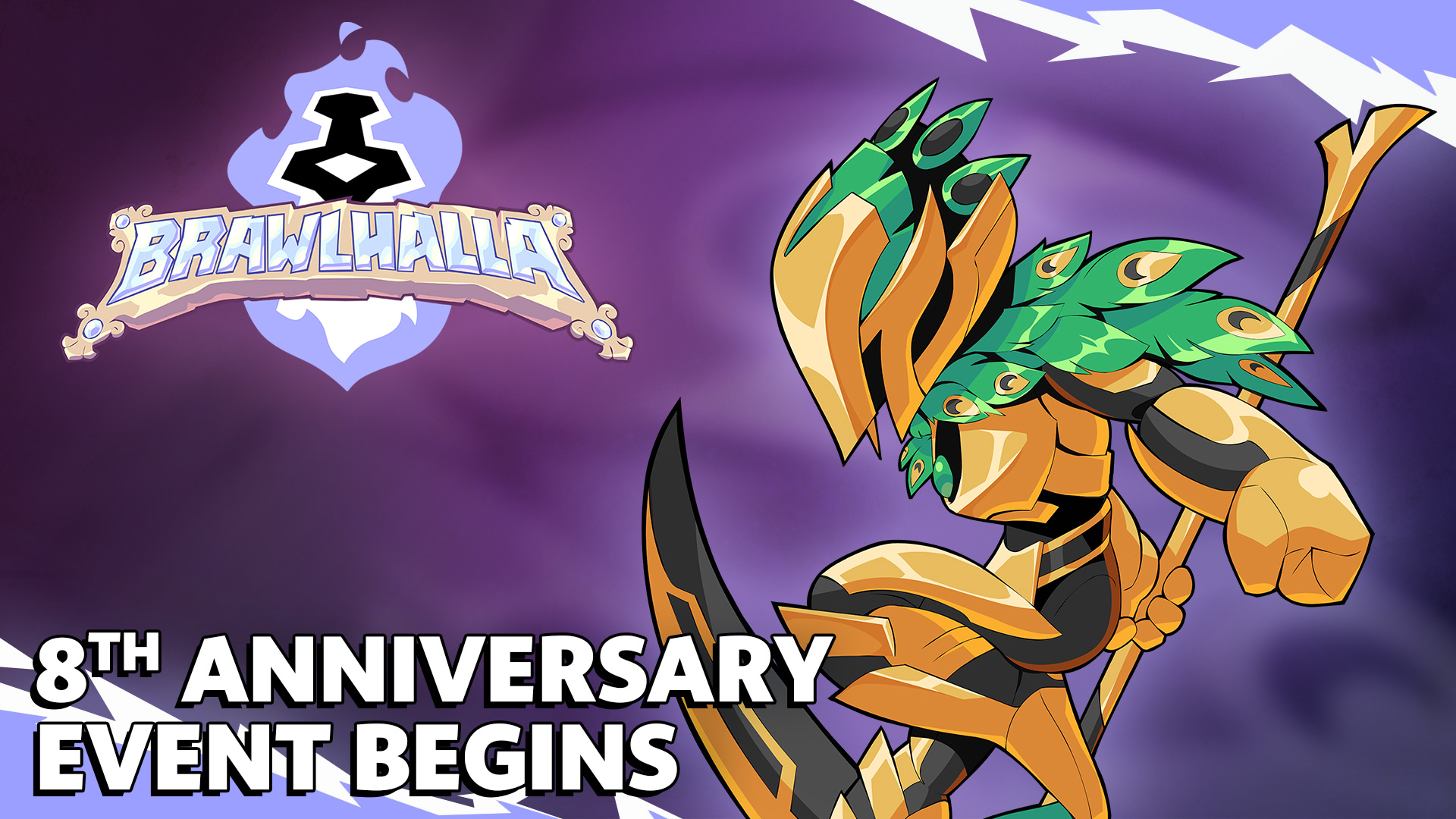 Happy 8th Anniversary & World Championship Weekend!
The Brawlhalla Championship Expo kicks off this Friday, November 3rd. If you haven't purchased your ticket for the event, you may still purchase Spectators Passes online at BCX.LIVE and at the door of the event for a higher fee. For more information about BCX, click here. We are so excited to put on an event that you'll remember forever! 
For those who will be watching from home, you can tune in on Twitch, YouTube, and Facebook! Have you already snagged snacks for the tournament weekend? 🍿🍬🧃
Battle Pass Season 8: Terminus has run its 12-week course. Hope you enjoyed your time completing Missions as much as we did. Keep an eye on our socials, because we won't be without a Battle Pass for long! Battle Pass Classic Season 3: Jötunn Winter's Return will make its… return soon!
To catch the latest Brawlhalla news and content, be sure to follow us on Twitter, Twitch, Facebook, YouTube, Instagram, Discord, and TikTok!

Break out the party hat and cake – it's time to celebrate Brawlhalla's Eighth Anniversary! This seasonal event features exclusive items, like the new Artemis & Diana Skins, Sidekick, Podium, and much more. Players can also claim the free "Belle of the Brawl" Title just by logging in to Brawlhalla during the event!
For this 8th anniversary celebration, we're also holding a timed mission to earn Esports V.1 Colors. 
See the list below for all the exclusive party favors:
Skins
Peacock Artemis
"The will of the party!"

Ready to stun in her metallic faux plumage, Artemis makes an entrance with her Pavo Beak Scythe and Cristatus Wingspan Rocket Lance.
Swanky Diana 
"Fashionably late with a bang."

Diana makes a bold statement with her custom Gold-Inlaid Bow and Jubilation Blasters. 
Gothic Chic Nix
"She's dressed to KO!"

Ever the trendsetter, Nix serves a dark, fashion forward look. She styled it with her Last Bite Scythe and Glitz & Glam Blasters.  
The Honorable Sir Roland, Esq.
"Yet another title to add to his incredible list."

Sir Roland is attired with his finest formalwear to attend the party with his Golden Lion Fang Sword and Regal Roar Rocket Lance.
Maître d'Hattori
"She'll serve you a memento mori.

Hattori is ready to deal you a KO with her Celebratory Sabre and Corsage Royale Spear.
Gentleman Kor
"Simultaneously neat and on the rocks."

Kor's been buffed and polished for the celebration! He's accessorized too with Cuffed Regalia Gauntlets and Disco Brawl Hammer.
Ritzy Bödvar
"I can bear-ly contain my excitement."

Adorned with his Hammer Decorum and Gilded Glory, Bödvar is ready to celebrate in his new attire!
Sidekick
MonoKyle – "He's ready to celebrate!"
New seasonal Anniversary Sidekick!

He's escaped Terminus! Time to party!!

Colors
Gala Color Scheme
Dress to impress with these white, black, and gold colors.

Available for every Legend!
Esports v.1 Color Scheme
Win a matchmade game with a Legend to earn this elite Color Scheme for that Legend.

Win matchmade games with all 60 Legends to unlock the Colors for all future Legends! Also unlocks the "Drum Solo" Emote. 

Emojis
New seasonal Anniversary Emojis!
Gentleman WP – "I do say, that was a well played match."

Ritzy GG – "Indeed, a good game was had by all!"

Ray of the Dead Thumbs Up – "Always brush your teeth after eating candy!"
Emote
8th Cake-aversary
"Cassidy's trademark carrot cake recipe! All rights reserved."

Party with your opponents with some cake!
Podium
Gilded Deco 2023
"Celebrate our 8th Anniversary with this newly lacquered Podium!"

Featuring animations and sound effects, dazzle your opponents on this lavish Podium.
The Anniversary event also includes:
A free "Belle of the Brawl" Title by logging on to Brawlhalla during the Anniversary event!

Daily login bonus of 250 Gold to celebrate this event.

Anniversary-themed UI Takeover! Follow the top hats in Mallhalla to find all the goodies.

The 2023 Brawlhalla World Championship Expo is shaping up to be the most competitive Brawlhalla tournament to date. Between 1v1s and 2v2s, there are only 3 spots for champions. Who will win and walk away with a lion's share of the prize money? Tune in this weekend, the 3rd-5th. 
Tournament registration may be over, but you can still catch all the action IN-PERSON at the Cobb Galleria in Atlanta, GA. Spectator badges will be available at the door, or can be purchased for $10 USD at BCX.LIVE. All attendees will also receive new in-game rewards!
Can't attend? Watch the event LIVE on Twitch, YouTube, and Facebook! 
Friday, November 3, 2023 – 1v1 Matchups

Saturday, November 4, 2023 – 2v2 Matchups

Sunday, November 5, 2023 – BCX 2023 Finale

For times in your local time zone, see

brawlhalla.com/schedule

.
Earn Esports Viewership Rewards by watching the streams all weekend long! The more you watch, the more you earn. Rewards for BCX 2023 include, but are not limited to:
RGB Colorway UI Theme

RGB Greatsword Weapon Skin

RGB Visualizer Loading Frame

RGB Boots Weapon Skin

Champion's Belt Emote
To learn more about BCX 2023 and the finale of Esports year eight, visit BCX.LIVE.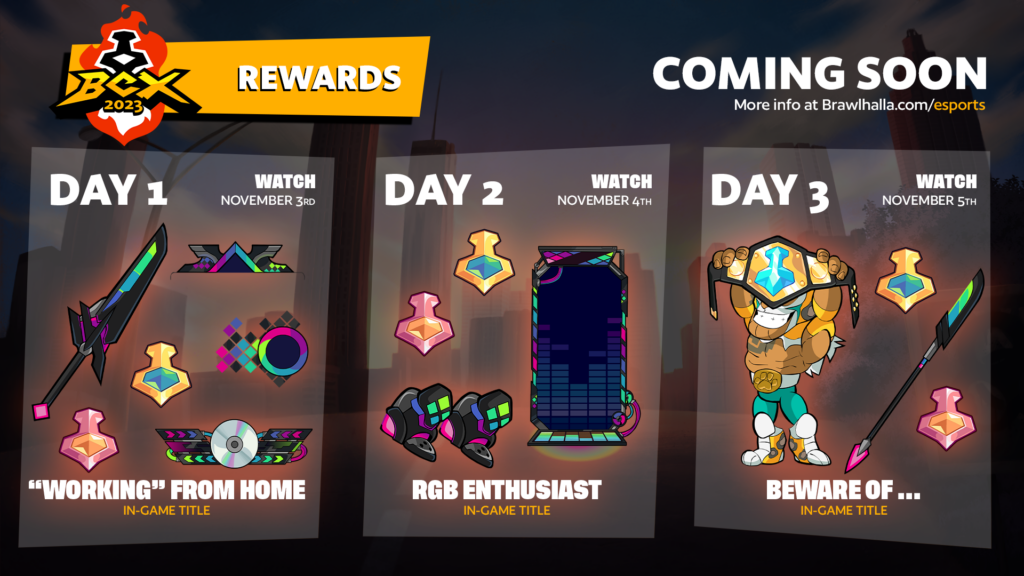 Pick your best 5 Legends and face off against your opponents best 5 Legends in this intense 300% damage battle! When you lose a stock the next Legend in your list spawns in ready to fight. Damage KO your opponent 5 times to win!
1v1 Strikeout

5 Stocks

300% Damage

Legend changes after each stock!


The free-to-play Legend rotation for this week features: Zariel, Thatch, Barraza, Magyar, Dusk, Munin, Scarlet, Brynn, and Lin Fei.
Zariel – The Celestial, a warrior deity of Holy Justice, who abides in blessed Elysium. Zariel uses Gauntlets and Bow to take down both Demon hordes and any warrior participating in the Grand Tournament.

Thatch – The tournament is a paradise of chaos and fire for this Madman of Barbados as he brandishes Sword and Blasters.

Barraza – A feared man in the wastelands with his Blasters and Axe, Barraza is the ultimate survivor and will do what it takes to be at the top in Valhalla.

Magyar – As the last remaining member of the Batavian Strazci army and wielding the strength of a 100 elite knights, this spectral guardian has come for the glory of battle with their Greatsword and Hammer!

Dusk – Wielding his Spear and a powerful Orb carved from stone and magic, Dusk seeks to spread chaos throughout Valhalla.

Munin – Rocking out to the sweet sounds of her Scythe and Bow, she's ready to brawl in the Grand Tournament and finish her next Ravenqueen concert!

Scarlet – A former women's boxing champion from England and head of the Royal Airship Navy, Scarlet used her ingenuity and knowledge of steam powered machines to build her own Rocket Lance and Hammer to take into battle.

Brynn – Competing for the pure joy of it, this Valkyrie has seen many victories due to her skill with the Axe and Spear.

Lin Fei – A defender of the innocent and teacher of the lost ways.  She is a great teacher who has developed her own fighting style, the 'Way of the Iron Dragon,' which utilizes her Cannon, Katars and an ancestral dragon-spirit.